Fashion Design Canopy for Ricardo Diesel Generator Set 75kw/93.75kVA
2021-06-13
Conditions of Use:
Land Use
Landuse Type of Unit:
Ordinary
Excitation Mode:
AC Rotating Exciter
Generator:
Yihua, Copy-Leroysomer, Copy-Stamford, Stc
Control Module:
Deepsea Smartgen Datacom Comaq
Starting Battery:
24V Free Maintenance Type
Voltage:
AVR, 110V to 480V Are Available
Fuel Tank:
10 Hours Running Time for Full Load
Governor Type:
Electronic Type or Mechanical Type
Cooling System:
40 Centigrade Radiator
Warranty:
1 Year or 1000 Hours, Earlier Time.
Transport Package:
Polywood Package
Specification:
ISO9001, ISO14001, CE, CIQ, SONCAP
Weifang series diesel generating sets of our company are composed of weichai power and brand alternator, products include K and R series, with power coverage of 30-150 kw. The R4105, R6105 series Diesel Engine adopt advanced ricardo technology from its UK joint venture, the product quality is stable, and price is reasonable.
+++Finished Products                           
PS:Model1. GF Series: Open type diesel generator set
      Mode2. GFS Series:Soundproof type diesel generator set


 
+++Engine                              
Option with:  WEIFANG
a,3-Phase, 50Hz@1500RPM, 400/230V (Also Can Be Made According To Customers' Special Requirements) 
b,12V/24V DC start motor and storage battery
c,Brushless, Self-excited, IP23, insulation class H alternator  
d, 40°C radiator as standard, 50°C is optional
e,Key start panel control system as standard, digital auto-start panel is optional
f,All Generator Sets are gone through rigorous testing  before being released to the market place, including 50% load, 75% load,  100% load, 110% load and all protection function (overspeed stop, high water   temperature, low oil pressure, battery charging    fail, emergency stop)
+++Specification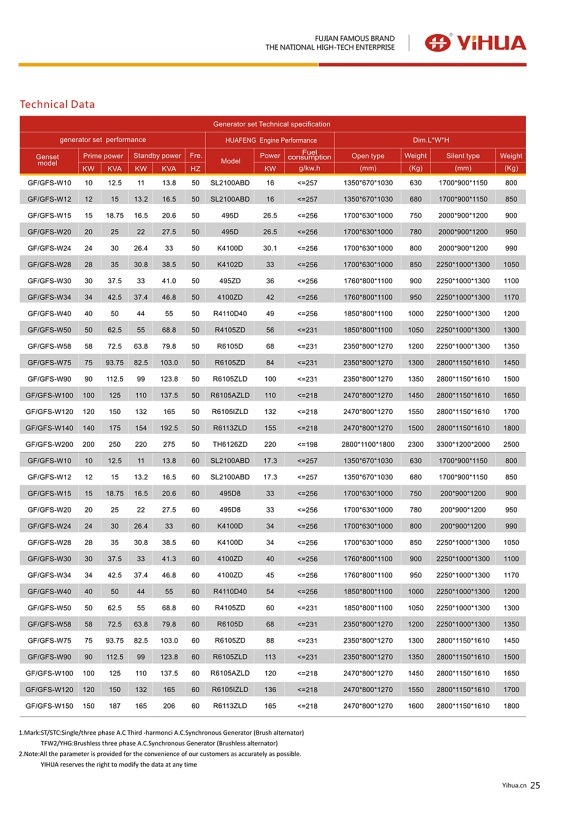 +++Alternator                         
Option with:Stamford, Leroysomer, Marathon, ABB, YIHUA YHG, YIHUA TFW2(Our own products) 


 
+++Control Panel                       
Digital/manual 
Option with: Deepsea, Smartgen, Comap, Harsen, Monicor, Datakom
 1) Automatic alarm system: the unit has the acousto-optics alarm system and
arrestor for any situation as the start defeat, the water is over temperature, the oil
pulls down, over speed, over load and over current.
 2) Operation display:
   a) Unit voltage, tri-phase load current and frequency display
   b) Water temperature, oil pressure display
   c) Fuel level, fuel temperature display
   d) Audible and visual alarm lamps and buzzers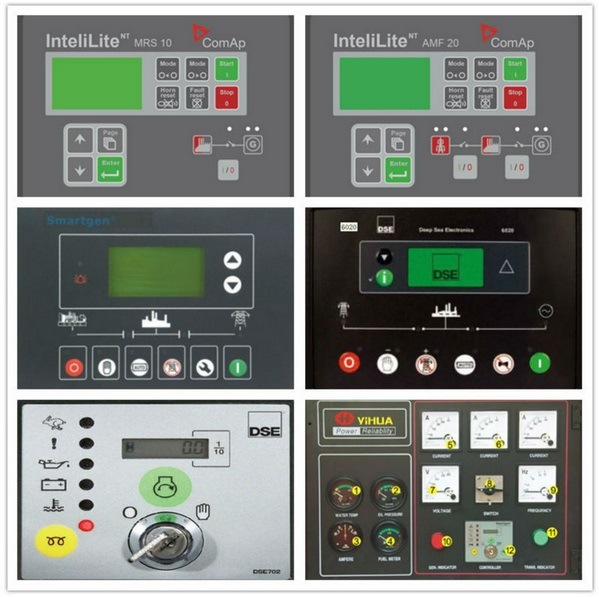 +++Accessories of ricardo generator 50kw     
1) Standard accessories: Standard 40 radiator mounted on skid, Common steel frame, circuit breaker, damper, exhaust silencer, flexible pipe, battery and connecting wires, Standard tools kit, operation manual and document.
2) Optional accessories: Engine coolant and oil heater, alternator space heater, cooling for heat exchanger, communication interface, battery charger by main supply, daily fuel tank, ATS and paralleling system, soundproof canopy and moving trailer.
+++Generator Protections                       
1.Low oil pressure   
2.Over temp  
3.Over/low speed  
4.Charger failure  
5.Over crank Stop failure
6.Low/high charger 
7. voltage Emergency 
8.Common alarm Generating failure

 
+++Service Quality Assurance                
1)Before-sale Service:we provide detailed product technical parameters for equipment choosing and    system designing

2)Service quality assurance:our sale staffs are all experience and professional,who can provide the        most proper system design and optimized equipment for the customers.

3)After sale maintenance service:We create files for end user and provide them follow-up          service,regular return visit and permanent maintenance.

4)Spare parts supply:We provide all kinds of spare parts and technical support.

5)Main overhaul or maintenance service:We provide perennial major overhaul and maintenance      service.
QUALITY STANDARDS
YIHUA Cummins series diesel gensets offered by YIHUA Power Generation are manufactured strictly accord to the ISO9001:2000 international quality management system. Our company has commanded the design of diesel gensets well with the overseas companies' great support and the years' experience. Besides the design of industry workshop, our company also has good experience with the design for the monitors in intellectualized building, including connection, remote device,  engine room without on duty, soundproof design and installation. Up till now, there are thousands gensets with control monitor provided by YIHUA Power Generation, which proves the high preponderant situation of YIHUA Power Generation.
YIHUA generator sets compliance with all main standards, such as

 

GB/T2820, GB1105, YD/T502, ISO8525, ISO 8528, ISO14000, ISO3046, GB755, BS5000, VDE0530, ISO3046, IEC34-1.
FACTORT TEST
Each our generating sets must be got through

 

load test for running 0%, 25%, 50%,75%, 100% and 110% load before dispatch. All protective devices, control functions are simulated and it's system checked, proved and then passed for dispatch. A test certificate can be provided upon request.
SERVICE
BEFORE SERVICE: According to the clients' requirement and actual situation, we will furnish the technology consultation and kinds of information.  
AFTER SERVICE: Guarantee for one year or 1000 running hours (accord to whichever reach first) from arrival date of destination port. During the guarantee period, we will provide the free easy-damaged spare-parts for problems caused by our quality of production or raw material, except the damageable spare parts of diesel engine caused by customer's incorrect man-made operation. After expiration, our company provides cost spare-parts maintenance for gensets.  
Weichai series Diesel Generator sets
A: Test before shippment
- Each Generator Set shall be put into commission more than 4 hours totally, tested on idle load, fully load and 10% overload.
- Noise level shall be tested.
- All of the meters on the control panel shall be tested.
- The appearance of the Set and the label, nameplate shall be tested. "
-Voltage available: 50Hz: 380-400-415V/ 220-230-240V; 60Hz: 220-380-416-440-480V/ 110-208-220 240V. Any special voltage is also available as cilent's request.
B: Packing & Warranty
- Packing: Wooden Case, Plywood or Metal Case.
- Delivery Time: Less than 25 working days after receiving prepayment.
- Warranty: One year or 1, 000 hours from the date of shippment
(15 Months or 1, 200 hours for Alternator Part).
C: Control System:
1, Basic control system, the basic type control system is provided with a current meter, a volmeter, a frequency meter, an oil pressure guage,
a water thermometer and indicator lights on the control cabinet and 4 additional protection fuctions are to be provided as required by customers.
2, AST (Automatic Start Type Control System), Optional Automatic Start Type System is provided When there is an interruption in the commercial
power supply (or there is a start signal in other generator sets), this generator set will, subject to time delay acknowledgement (0-30 S adjustable), be automatically started (1-8 times adjustable). In addition, it is provided with a basic protection function and digital or meter indication of voltage, current, frequency and rotation
speed parameters.
3, ATS (Automatic Transfer System), The optional system is provided with a fully automatic transfer switch, a control electric apparatus and an indicator
light on the control panel and is coordinated with an automatic type contral cabinet, thus serving the fuction of automatic changeover between the
power supplied by the grid and the power generated by the genset.
4, Sync Parallel Control System, this control system can connect 2 or 3 or 4 gensets to make more larger power. such as: if you want 1000kw power,
you can choose 2 sets 500kw gensets to work together, using this control system can make 1000kw power.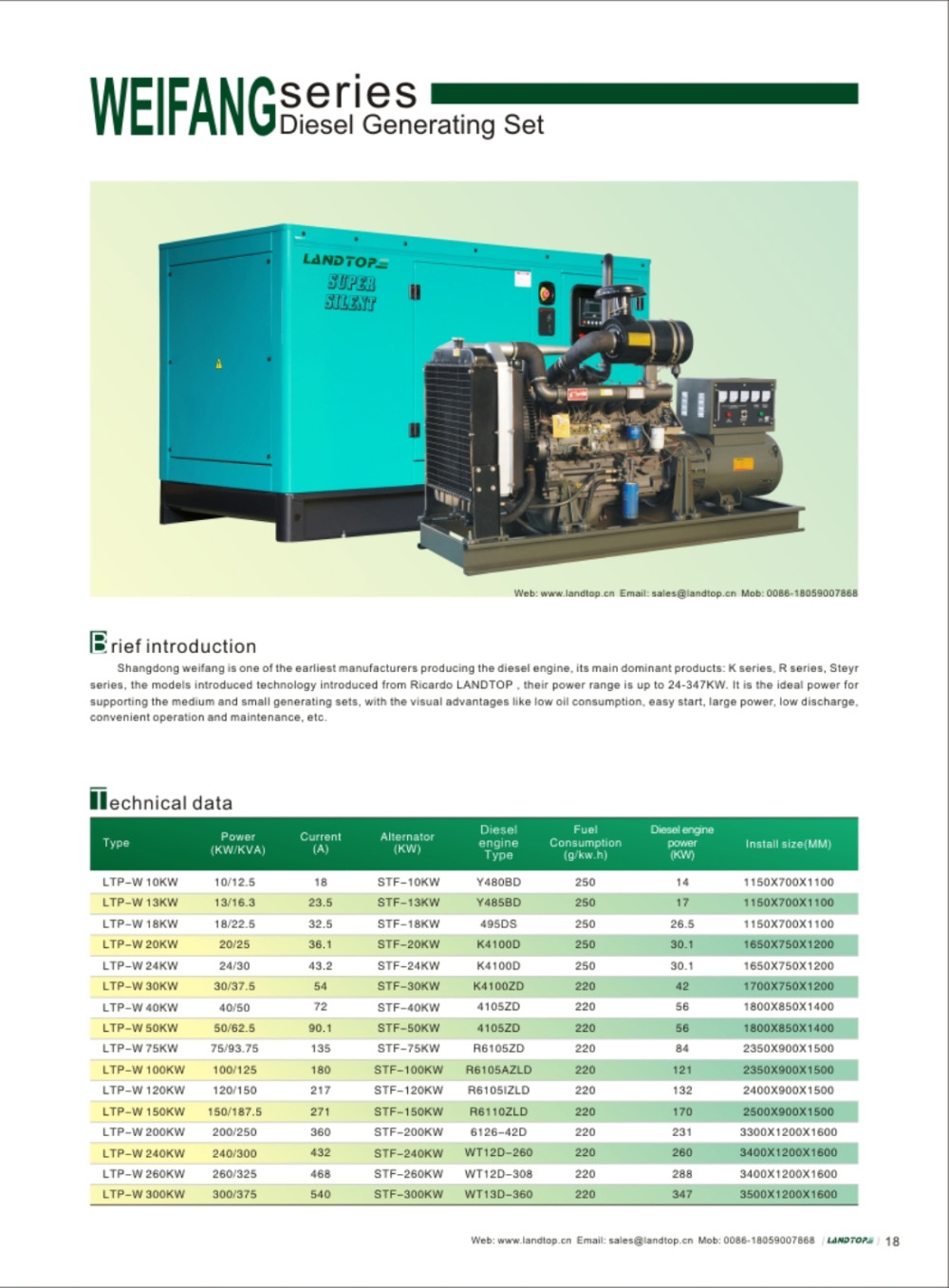 Ricardo Engine Diesel Generator
,
Ricardo Diesel Generator
,
Ricardo Generator
,
Ricardo Diesel
Weifang Huayuan Diesel Engine Manufacture CO.,LTD http://www.landtopcos.com